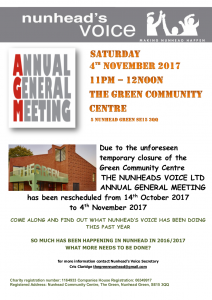 FIND OUT WHAT NUNHEAD'S VOICE HAS BEEN DOING THIS PAST YEAR:
THE GREEN IS OPEN
Does it meet your expectations?
Come along and share your thoughts about what you would like to see happening at The Green.
WOULD YOU LIKE TO BE INVOLVED IN WHAT IS HAPPENING AT THE GREEN?
Come along and find out how you can participate in future plans to make The Green relevant to everyone in the Nunhead community.
SO MUCH HAS BEEN HAPPENING IN NUNHEAD IN 2016/2017
WHAT MORE NEEDS TO BE DONE?
for more information contact Nunhead's Voice Secretary
Cris Claridge
thegreennunhead@gmail.com