When:
15/07/2019 @ 19:45 – 20:45
2019-07-15T19:45:00+01:00
2019-07-15T20:45:00+01:00
Where:
The Green - Ivy Room
Nunhead Green Day Nursery
5 Nunhead Green, London SE15 3QQ
UK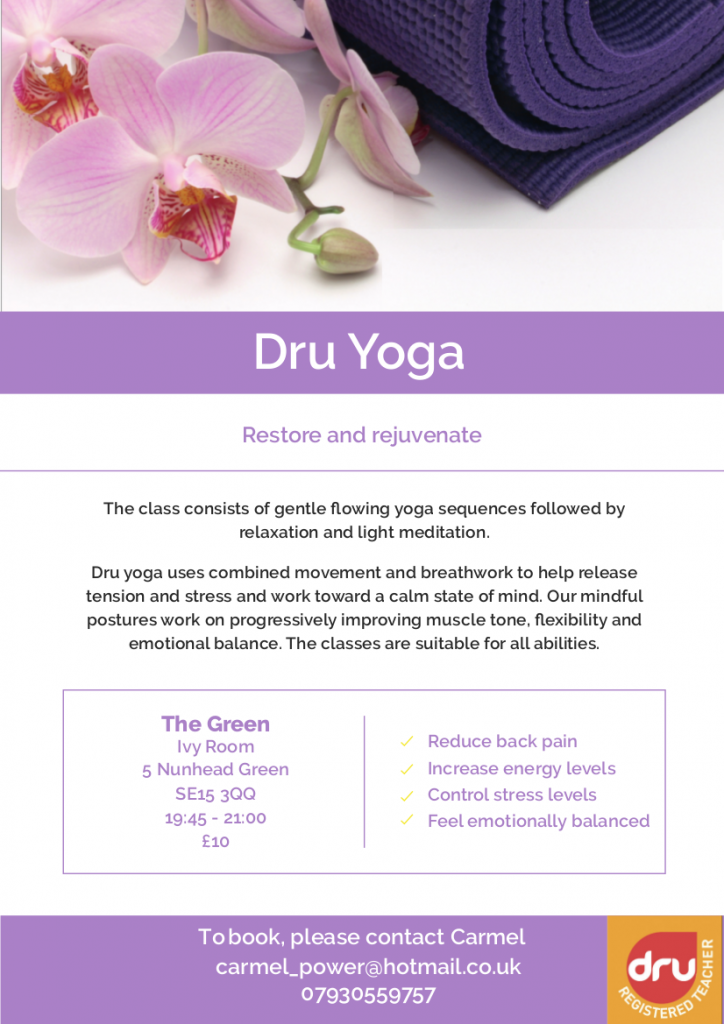 Dru Yoga is a fun, friendly, mixed ability yoga class which doesn't take it self too seriously. You will leave feeling relaxed and rejuvenated!
Yoga is so much more than a work out…In our modern, hectic, busy and stressful lives – Yoga can simply help us to restore and re-nourish us back to the whole.
Dru Yoga classes are designed to be warm, friendly and inclusive for all levels – we start with a fun and lively warm up to protect the joints and muscles, we then work through a flowing sequence of postures which are rooted in ancient Yogic tradition, and end with a wonderful relaxation.
This style of Yoga can offer many benefits including:
*Increased energy levels
*Reduced stress
*Improved stamina and flexibility
*Increased core strength and muscle tone
*Helps to relieve back pain
Please bring a warm shawl and a bottle of water.
We look forward to seeing you then