You may have already tried one of these delicious recipes from Banana Blossom, as shared in the Spring issue of The Nunhead Voice.
Local Chef, Ranjan, has had regular pop-ups at the Bussey Building in Peckham and is available to whip up private meals for 2 to 100 people.
Give these a try to start with…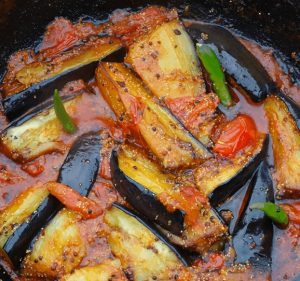 Aubergine and Okra in tamarind.
1 big Aubergine cut into rounds and then quartered. Cover with a pinch of salt and 1/2 tsp turmeric
Same volume as aubergine of Okra, topped and tailed and cut into 1/4ss lengthways
Cubic inch of tamarind pulp in 1 cup of boiling water
cubic inch of ginger, grated
I tbs sunflower oil
Mustard seeds tbs, red chili x 1 de-seeded, turmeric  1 x flat tsp, 1 x heaped tsp paprika, 4 cardamon pods cracked and the seeds taken out
In one pan fry the aubergine until golden brown.
In another simultaneously heat oil in pan till smoking, add mustard seeds and chili.
Wait till mustard seeds pop. Add okra and pinch of salt and turn down heat, move around till the okra colours,
Add the ginger, turmeric and paprika and cardamon seeds. Stir in then after a minute add the strained tamarind infusion and a pinch of salt. bubble away for a minute
Add the pre-fried aubergine. taste to salt and serve.
A handful of fresh mint makes a lovely garnish as well.
Serve with rice and / or chapatis.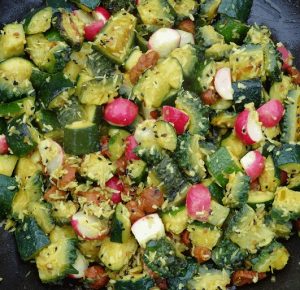 Shukto for Four
This is a classic bengali stir fry. A USP is Bora or croutons made from chola dal, also known as chora vada. You can get these in Bengali and Gujrati shops. If none nearby you can make your own simply by cooking red lentils or the chola dal etc by boiling till fluffy in scant water, then draining and whizzing / pounding into a paste, seasoning with salt, pepper and chili powder / paprika and garam masala, forming into ping pong sized balls.
Ingredients:
2 Courgettes, 1 cm cubes
1/4 pumpkin / butternut squash – 2cm cubes
Radishes, mouli / white radish, Halve red radish and cube the mouli
Greens – 250g spinach / 200 g cavalo nero, kale, roughly chopped
cubic inch of ginger, grated
Bori / Chora Vada – chola dal croutons 100g
Nigella seeds tablespoon, fenugreek seeds teaspoon, red chili x 1 de-seeded, Asafoetida powder tsp, desiccated coconut 2 tbs, turmeric powder 1/2 tsp, cinnamon powder 1/2 tsp, 4 green chilies to decorate
Fry in 1 tbs sunflower oil, the bora till they are a more golden brown hue. put to one side.
Wipe pan and her heat another tbs in wok until smoking, add nigella, fenugreek and red chili. When nigella is whizzing in the pan, add the pumpkin and a pinch of salt and work around the wok for a few minutes till the pumpkin is taking on some colour.
Add courgettes and a pinch of salt and work the wok some more, for a minute or two
Ad the Hing, stir in then the coconut and grated ginger, stir some more,
Add the greens with a pinch more salt and cover and turn heat down. Let the liquid from the greens come out, steam the dish. After a couple of minutes see how much liquid there is, if not much apparent i.e. if using kale / cavalo nero, add a half glass.
Add radishes red and white and the bora fried. Cover and steam. When pumpkin is soft, take off lid
Add final taste of salt, pepper, cinnamon and whole green chilis.
Discover authentic Bengali vegetarian and vegan cuisine with Nunhead-based Banana Blossom, which offers expert catering for dinner parties and soirees, creating authentic curries and hotpots and more. For further information, call 07949 657 360, email ranjan_bhattacharyya@hotmail.com or see facebook.com/BananaBlossom