Discover the regular classes, activities and events that are taking place at The Green. You'll find a full description and pricing information, plus links to further information.
Click on the events below for more information. You can use the category button to select a certain type of events and change the layout of the calendar using the drop down menu on the top right.
Sep
29
Wed
Contemporary Soul Groove Dance Class

@ Willow
Sep 29 @ 17:30 – 19:00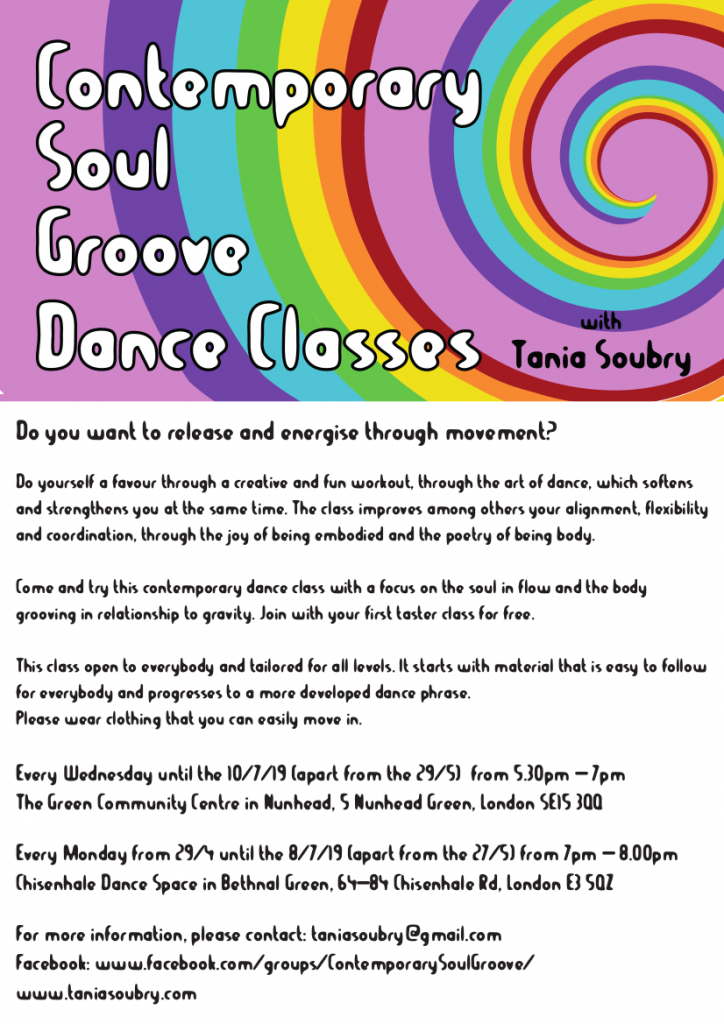 Do you want to release and energise through movement?
Do yourself a favour through a creative and fun workout, through the art of dance, which softens and strengthens you at the same time. The class improves among others your alignment, flexibility and coordination, through the joy of being embodied and the poetry of bodily being.
Come and try this contemporary dance class with a focus on the soul in flow and the body grooving in relationship to gravity.
Join with your first taster class for free.
Every Wednesday until the 10/7/19 (apart from the 29/5) from 5.30pm – 7pm
The Green Community Centre in Nunhead, 5 Nunhead Green, London SE15 3QQ
We start with a flowing warm up: releasing and energizing, tuning into our breath and our weight in relationship to gravity, feeling ourselves and our soma.
The class moves through circling and spiralling, opening and closing, shifting weight on and off balance, moving the Chi, working on grounding and projection, dynamic alignment and connections, oiling the articulations, cultivating strength and softness.
We will move on to more complex movement patterns in a fun and funky way: working on co-ordination and articulation, dynamics and rhythm.
The class will conclude with a bigger dance phrase, combining and playing with movement material, including footwork, travelling through space and changing directions, to get us dancing in a groovy and elaborate way.
The class includes structured material, as well as improvisation and movement exploration. We will focus on inner and outer awareness and the relationship of body parts, our relationships with each other and the space' all in a spirit of curiosity and joy.
Drop in class: Abundant* £10, Standard £8, Low income £6
5 week course: Abundant* £45, Standard: £36, Low income £27
10 week course: Abundant* £80, Standard £64, Low income £48
*Abundant helps subsidise low income tickets. It is up to the participants to choose what category they find fit. Thank you 🙂
Contact: taniasoubry@gmail.com
Facebook:https://www.facebook.com/groups/ContemporarySoulGroove/
www.taniasoubry.com
Tania Soubry is a dancer, choreographer, performance artist and teacher. She draws on her extensive dance training and practice, particularly contemporary dance and release technique, as well as African dance, street dance and somatics. Her teaching is further informed by her studies of Aikido, Tai Chi, Chi Gong and Shiatsu.
Oct
1
Fri
ARC Dance Academy – Contemporary 2 (ages 7+)

@ The Green - Willow Room
Oct 1 @ 16:00 – 17:00
ARC Dance Academy London's fun and friendly ballet, contemporary and creative dance classes for children ages 4 up, taught by ex-professional dancers.
ARC Contemporary classes build on the foundations of technique from ARC 1 which are essential for further development in contemporary dance.  A lot of emphasis on exploring different ways to travel across the space, move with intention, use the weight of the body and find more fluidity, strength and ease in movement are incorporated through challenging fun exercises. Students will also work further on developing their own creative dialogue using the skills they have learned. This helps them to find a creative 'voice' which is an essential tool for any young dancer and also aides in other areas of the child's development at school.
Please be in touch for more information and for us to explain the correct class for your child's ability and age – arcdanceacademy@gmail.com
For all our other classes please look at our website www.arcdanceacademy.co.uk
Margaret's Music: Dance Fusion

@ The Green - Ivy Room
Oct 1 @ 16:30 – 17:15
A new fun dance class for age 5-7 years
Help your child love to move to all kinds of music in all kinds of ways
This creative class allows children the opportunity to express themselves to music and develop a sense of rhythm and pulse.
In this dance fusion experience children will be taught specific dance skills and steps and styles as well as having the freedom to develop their own ideas.