Discover the regular classes and activities that are taking place at The Green. You'll find a full description and pricing information, plus links to further information. If you want the calendar for the month ahead, please download the PDF here.
Click on the events below for more information. You can use the category button to select a certain type of events and change the layout of the calendar using the drop down menu on the top right.
Apr
23
Mon
Dancehall Dynamite Workout

@ The Green - Willow Room
Apr 23 @ 19:30 – 20:30
Dru Yoga

@ The Green - Ivy Room
Apr 23 @ 19:45 – 20:45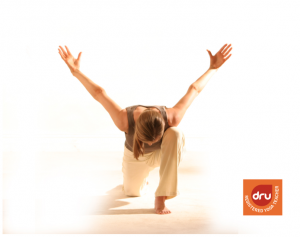 Dru Yoga is a fun, friendly, mixed ability yoga class which doesn't take it self too seriously. You will leave feeling relaxed and rejuvenated!
Yoga is so much more than a work out…In our modern, hectic, busy and stressful lives – Yoga can simply help us to restore and re-nourish us back to the whole.
Dru Yoga classes are designed to be warm, friendly and inclusive for all levels – we start with a fun and lively warm up to protect the joints and muscles, we then work through a flowing sequence of postures which are rooted in ancient Yogic tradition, and end with a wonderful relaxation.
This style of Yoga can offer many benefits including:
*Increased energy levels
*Reduced stress
*Improved stamina and flexibility
*Increased core strength and muscle tone
*Helps to relieve back pain
Please bring a warm shawl and a bottle of water.
We look forward to seeing you then!
Apr
24
Tue
New Wave Taekwondo

@ The Green - Willow Room
Apr 24 @ 17:30 – 19:15
New Wave TKD has been providing quality Taekwondo instruction in Nunhead for over 20 years. In that time we have produced National Champions in both Forms and Sparring Competitions. Our students have successfully competed in countries as far a field as Belgium, Germany and the USA.
Note: Taekwondo is practiced bare footed and beginners are required to wear jogging bottoms and T-shirt/ sweatshirt whilst attending classes for the first month.
Please contact us for further information!!
Zumba with Zoe

@ The Green - Willow Room
Apr 24 @ 19:30 – 20:30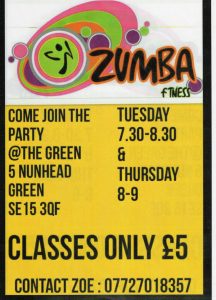 An aerobic fitness programme featuring movements inspired by various styles of Latin American and performed primarily to Latin American dance music…..its fun! And all ages can do it…..Come join the party!